Clan Buchanan appoints its first chief since 1681
Some of you are aware of my interest in early Buchanan history.

I received a text message from James informing me that the Lord Lyon (the heraldry authority for Scotland) has recognized John Michael Baillie-Hamilton Buchanan as Chief of Clan Buchanan. Up to this point, he was the representative of the Arnprior and Leny branches of the family, so he seems like a natural choice.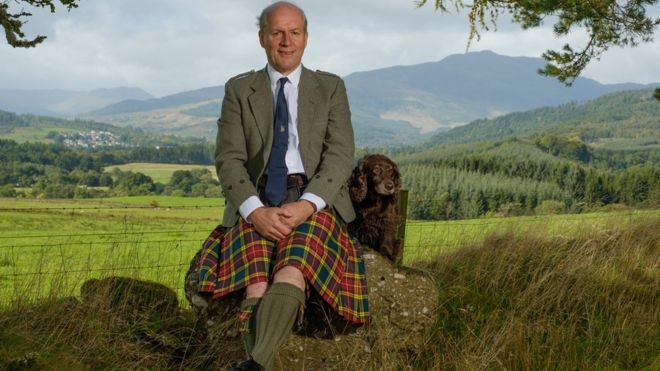 John Michael Baillie-Hamilton Buchanan
the new Chief of Clan Buchanan
Arnprior
was noted for several things.
They were descendants of the facetiously-named King of Kippen, friend of King James V, whose amusing story was recorded by Sir Walter Scott.
A Buchanan of Arnprior who removed the gates of Mugdock Castle, seat of the chiefs of Clan Graham, when they were on the opposite sides of a civil war in the 1600s.
Francis Buchanan of Arnprior died as a supporter of the Jacobite cause.
John Buchanan of Arnprior was the agent for settling the estate of John Buchanan of Buchanan, the last chief in 1681. (At this point most of the Buchanan estates passed to the family of the Duke of Montrose.)
Leny
is one of the oldest Branches of the Buchanan clan.
In fact when William Buchanan of Auchmar, a rival claimant to the the title of Chief, wrote his monumental history of the Buchanan clan in 1723, he expressed surprise that the Leny branch bothered to keep the surname Buchanan after all this time. (His own Auchmar line died out in two more generations, so even if the Lord Lyon had granted them the title, it would not have lasted for long.)
Janet Buchanan, one of the two daughters of Chief John Buchanan who died in 1681, married Hugh Buchanan of Leny.
So you might say that after all this time the title is where it belongs.